Presentation
Goals
Training and preparation in relation to active learning methods for both professional and non-professional educators as regards the roles of instructors, directors and treasurers of holiday centres;
Training and professional development for managers within educational institutions such as preschools, boarding schools and universities; training and professional development of educators within urban or rural youth organisations or educators working with maladjusted young people and children (Art.1 of the Statutes);
Organising and managing internships together with information-gathering, training and professional development sessions for educators;
Organising and managing holiday centres;
Organising and managing information, training and professional development courses for teachers, educational consultants and teaching inspectors (secular or denominational);
Research into the educational plan consisting of training methods and techniques adapted to the Malagasy situation;
Sharing all active learning methods and ensuring that they are adapted to the situation in Madagascar;
Facilitation of groups of young people and adults in relation to a variety of topics including group dynamics, leadership and management styles.
Activities
Training of educational consultants for primary schools: 6 sessions of "Training for Research and Innovative Teaching Methods".
BAFA internship: 64 interns from all areas of Madagascar.
Professional development internship Various topics were the subject of research and information sharing including "The Recent Evolution of Neuroscience and its Impact on our Internship Practices", "Speed-reading Techniques for better use of our Documentary Resources" and "Communication of Management Styles"
Holiday centres and other extra-curricular activities:
Team building The World Bank requested that CEMEAM organise and facilitate Team Building activities during this exercise for the purpose of creating and developing a group dynamic between the members of each entity and a variety of entities.
Strengthen the direct collaboration between the various entities involved in the project
3 types of summer camps:
1/An annual summer camp aimed at pupils from the CEMEAM (Training Centre for Active Learning Methods in Madagascar) in Ilafy which can be integrated as part of a family holiday with parents of pupils entitled to sign up but organise their own activities and accommodation. The number of participants ranges from 100 to 150 including both children and parents. Financed in part by the school with donations from parents.
2/ An annual summer camp organised in partnership with the Goethe-Zentrum Antananarivo German Cultural Centre. This is aimed at pupils awarded the highest marks in German from the country's two secondary schools.
3/ One or two holiday camps, open to the public. The costs are completely covered by the parents. The numbers are usually limited (around thirty per session).
Hosting groups of French youths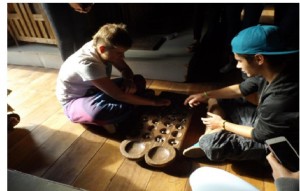 The Association hosted and organised four groups of French youths who worked as volunteers on a building project in Anstirabe for one week and then visited Madagascar for the two other weeks.
The two first groups were sent via the French association "Diabolo Menthe".
2007: hosted the FICEMEA global forum "Construct an Active Citizenship for a Sustainable World».